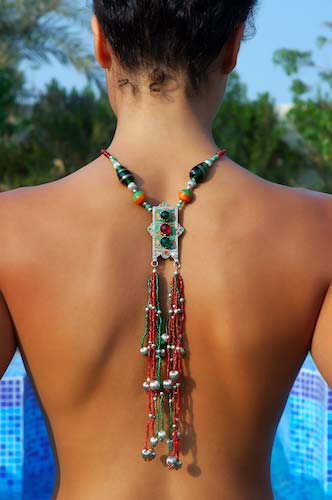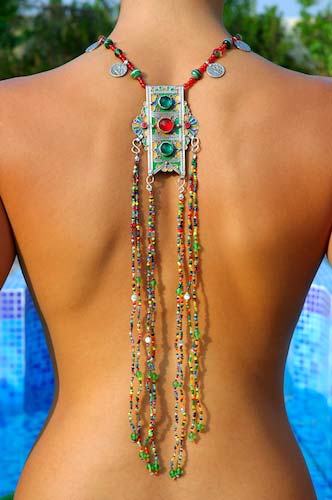 Atlas High
Moroccan Berber Collection
Collection transpired in Morocco
Since childhood, Ibrahim felt an intuitive pull to live with tribes from around the world. Fast track to the year 2000, the artist found herself in Morocco, living with the Berber people; the original people of North Africa. Through her curiosity and passion for Moroccan culture, people, communities and art, Ibrahim learnt about the origins and progression of humanity and mythical meanings through jewellery and wearable ornaments.
Photography by Haidar (Dubai)
Atlas High
The design are an expression of living with my tribal family & the stories they shared with me; the 'back necklace series' created after imagining beads cascading down a waterfall during our hikes in Chefchaouen, the' Fossil Necklace & Earrings' - a statement of preservation and extraordinary record of the earthquakes that occurred in the country, and a medley of ethnic Berber enamel silver - ornaments that have become synonymous with tradition, history, rituals, and celebrations of fiercely independent people that produce strong jewellery in bold, simplistic, geometrical and symmetrical designs. Compelled to capture and rejoice in the Berbers authenticity and their artisan, the Moroccan collection became a combination of traditional handicrafts and contemporary designer aesthetics.
Slither Back & Front (Red)